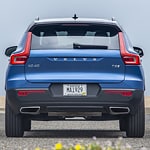 Without a doubt, the Volvo XC40 R-Design is a great looking compact SUV. It's also quite popular because of the sporty details that make it stand out. Look at what else the XC40 R-Design has to offer:
Hands-Free Power Tailgate

Whether you are leaving the grocery store with your hands full or taking the kids to school on a busy weekday, the hands-free power tailgate in the Volvo XC40 R-Design will get lots of use. It's a relatively minor convenience that makes a big difference.

Keyless Entry

?Refined styling, optimal access control and convenience are just a few of the many reasons why keyless entry is a great feature of the Volvo XC40 R-Design. Instead of having to engage a physical key, you simply need to grab the door handle to get inside.
If you think the Volvo XC40 R-Design is right for you, now is a great time for a test drive. Visit Volvo Cars Palm Springs to get behind the wheel.